Want to be featured on our blog?
Just send in a link or picture of what you would like to feature (a craft, party idea, recipe, etc.) and you may be chosen for a post if it fits our 'not so picky' standards!
We'll get back to you as soon as possible with a 'yay' or a 'nay' and if it's a go, then we'll let you know what we'll need from you (links, pictures, samples, etc.).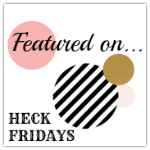 Once you're items have been posted, you'll get to use one of these cool buttons for your own site!
We're also looking for items to use as GIVEAWAYS!
Just follow the same instructions as above to be considered.
Thanks for joining us on
HECK FRIDAYS
...hope to see you again soon!!!